June 6th Equipment Auction

JUNE 6TH EQUIPMENT AUCTION
Farm/Ranch/Heavy Equipment 
Saturday, June 6th at 9:30am
Preview Friday, June 5th from 9:00am to 6:00pm
2 RINGS!
Ring 1- 9:30am- Surplus fluids, cleaners, tools, chains
 Ring 1 Available for Bidding Onsite or Online via Proxibid. Click the link below to view the items and bid online: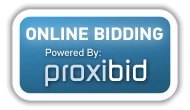 Ring 2- 10:30am- Tractors, trucks, cars, SUVs, trailers, UTVs, skid steers, attachments, plows, rakes, planters, shredders, balers, seeders, sprayers, augers, straight blades, welders, generators, dozers, mowers, grapples, industrial tools, fuel tanks, pumps, fluids, tools, and MORE!
 Ring 2 Available for Bidding Onsite or Online via HiBid or Proxibid. Click the links below to view the items and bid online: