4th Annual Chris Kyle Memorial Benefit Dinner & Auction
May 6, 2017 @ 5:00 pm

-

8:00 pm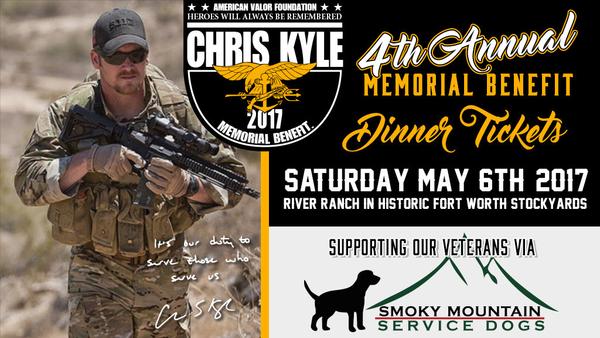 The American Valor Foundation 4th Annual Chris Kyle Memorial Benefit is being held May 5th & 6th, 2017 in the Historic Ft. Worth Stockyards. The mission of the CKMB is to continue the efforts of SOC (SEAL) Chris Kyle, USN in helping fellow Veterans by keeping to his motto, "It's our duty to serve those who serve us."
The 2017 recipient has been named by the American Valor Foundation Board as Smoky Mountain Service Dogs.
Clark Auction Company, LLC is proud to sponsor the Live and Silent Auctions with Online participation in the Live auction provided by Proxibid.com
Other Events for the 2017 event include a golf tournament Friday May 5th, sporting clays Saturday morning May 6th with live entertainment set for 8:30 p.m. both nights.  The Stockyards Championship Rodeo begins each night at 8:00 and a portion of ticket sales is being donated to CKMB.   It all happens at the River Ranch Stockyards, Stockyards Coliseum and the surrounding area.